When it comes to transporting products we all want our goods to arrive in perfect condition. If palletised or stacked, packages can be particularly vulnerable as their square edges and corners are particularly exposed to bruising or crushing. But help is at hand: as part of the wide range of packaging materials available to retailers and shippers are a plethora of edge and corner protectors.
From foam corner protectors to sturdy cardboard edge protectors, there are a vast array of solutions to this problem, both in standard and non-standard size. Here we take a look at what is on offer and how best to use them.
Types of edge and corner protectors
There are a wide range of edge and corner protectors designed to suit the needs of the wide variety of packages stacked and wrapped, palletised and shrink wrapped. Let's start at the corners, as these are particularly prone to bangs and bashes as boxes are stacked and moved around and loaded against each other for transit purposes.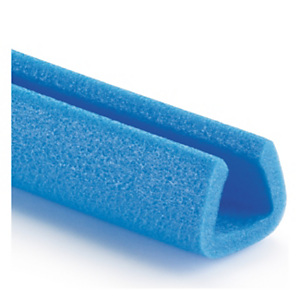 Corner protectors can be made of either cardboard or foam. Corner foam can be either a simple 'U' shape corners protectors or, more elaborately, full corner protectors design to protect in three dimensions, each designed for very specific uses
U shaped foam corner protectors are designed to grip tables, shelving, wooden boards or furniture for added protection during transit or storage. They are strong and absorb small impacts, as well as being temperature resistant between -40 and +100ºC.
3D foam corners, meanwhile, are designed to provide protection and extra support to the corners of boxes and palletised goods. They are simple to pop on the corners and are non-abrasive.
Both these and the 'U' shaped foam corner protectors are made from closed cell polyethylene foam, CFC and HFC free. They are also 100% recyclable.
How do edge protectors work?
Edge protectors, meanwhile, have a very different role to play. They are similarly used to protect the edges of boxes and palletised boxes from bumps and bashes, but they can also beused to protect the boxes from the fixings used to hold boxes together and on the pallets themselves.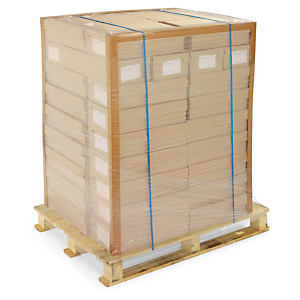 They are also used to add structure and strength to palletised boxes, especially under shrink and film wrap. Together with the fixings and the wrap, these cardboard or foam edge protectors add structure and stabilise loads, so that not only are the goods protected from knocks and bangs, but won't collapse under their own weight or puncture the cardboard when being moved.
Also available are edge protectors that are used to help support strapping and fixings. These come in both cardboard and moulded plastic, with the plastic offering able to both protect the package from the force of the strap as well as holding the strap securely in place, preventing potentially dangerous movement of the packages.
White card protectors such as moisture resistant edge protectors, also have their specialist uses. While affording protection to stackable pallet loads and held with fixings, these moisture resistant, poly-coated white paper protectors are ideal for use where the pallets are to be stored in cold and/or damp locations for a period of time, such as in a cold store.
These moisture resistant edge protectors stabilise, protect and reinforce unsteady or variable pallet loads during transport and storage. Keeping their strength in humid conditions they can also be used to add reinforcements to cartons.
How do corner protectors work?
Where edge protectors protect from knocks, fixings and add structure, corner protectors are very specifically designed to protect the corners of items such as tables, worktops, shelves and other 'flat' goods that have pronounced and often sharp corners.
Table corner protectors can be either plastic or foam and simply slip over the edges of the corners and prevent bumps. Foam corners grip the surface of the table and protect both the table and those handling it from sharp edges.
One solution for tables, worktops and other furniture corner protection are expanding corner protectors, that can stretch from 20 to 40mm and so can handle non-standard sized items.
Similarly worktop corner protectors are vital to preventing these expensive and often bespoke pieces of wood, stone or metal from getting damaged during routine handling. With worktops costing many hundreds – sometimes thousands – of pounds, preventing them getting bashed or chipped; damage that could write off the whole piece.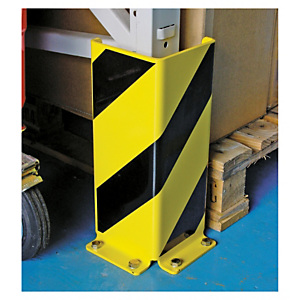 As we have seen, there is also a need for safety corner protectors, where the corner protectors not only protect the goods, but also protect those handling the goods.
While heavy duty pallet racking protectors protect vulnerable pallet racking uprights and end-frames from damage from fork lift trucks, protect corners of buildings and doorways and can be put around machines, more simple foam and plastic protectors popped on the ends of shelves and other goods stop personnel hurting themselves when handling the goods.
Foam corner protectors vs cardboard corner protectors
So where do you use foam corner protectors and where do you use cardboard corner protectors? Foam corner protectors are ideal for use where edges aren't straight, as they are flexible as well as strong. Their 'spongey' consistency also makes them ideal for adsorbing small impacts and are good a gripping the surfaces of things that are made from glass, such as pictures, mirrors and glass table tops.
Foam protectors can also be coloured, offering warnings or indications of the nature of the goods being protected – as well as making sure it is clear they have to be removed for use.
Cardboard edge protection, meanwhile, is used for protection but is often more useful for handling pressure points under fixings and strapping, as well as providing additional structure, strength and stability to packages. It too can be coloured or have warnings printed on it, but typically is used in its natural state.
Some other corner protectors
There are a number of other cardboard and foam protectors available for pallets, packages and non-standard shaped goods.
Cardboard pallet corners are ideal for added protection for the corners of square palletised goods in warehouses and during transit. Solid and shockproof these carton protectors are ready to use, just apply to the corners of your product.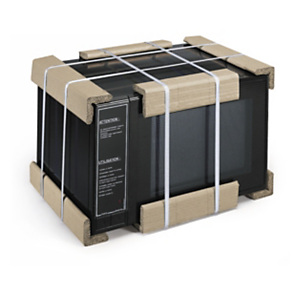 L-shaped cardboard edges are ideal for protecting individual boxes, both from damage and from fixings. They are also ideal for non-standard sized and non-palletised items.
Often used in conjunction with other protective materials, extruded mesh sleeves are ideal for protecting very delicate objects before they are boxed up. They are strong, flexible, colourful and ideal for glassware.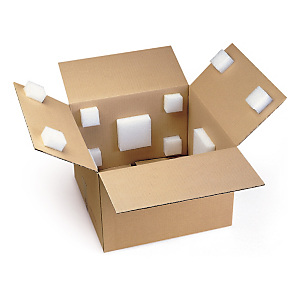 Self-adhesive foam blocks are protective pads that stick to the inside of cartons and protect the contents from movement or damage. Supplied in sheets one surface has a permanent adhesive protected with a peel off backing. The foam pads are pre-scored; just snap them off the sheet.
---
Bubble vs foam packaging: Do you know the difference?

---
Want to know more about our wide range of cardboard and foam edge and corner protectors?
For additional advice on cardboard and foam edge and corner protectors, mesh, blocks and all kinds of fixings, our Packaging Experts are here to help you find the right solutions and arrange next day delivery. Simply call us on 0800 542 44 28 or visit www.rajapack.co.uk.