Picking the perfect postal tubes for you to send or store maps, documents, plans and blueprints is ideal if you are looking to protect the items inside or to stack them up nicely.
The benefits of rolling are not only to avoid creating fold lines on the paper but prevent crease marks, if kept flat, especially if the document is very large. Available in a wide range of lengths and diameters and made from card, black matt card and even clear plastic, postal tubes offer a surprisingly sturdy way to protect long, thin and rollable items.
So what is available? Here we take a look at the different kinds of tubes to help you choose the one you need.
Picking the perfect postal tubes for you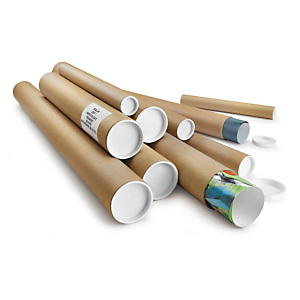 Picking the perfect postal tubes for you to send posters, documents and narrow products through the mail or via courier is essential in the new ecommerce-first era.
Cardboard tube packaging has been around for ages and has long been an ideal way to store everything from old maps to ancient documents. But these days they are vital for sending all manner of items that are of dimensions that make finding a standard box difficult and which need to be well protected from impact, moisture and dirt when in storage or transit.
Depending on what you want to send or store, its dimensions, shape, and how much protection it needs, there are a wide variety of shapes, sizes and cross sections of cardboard postal tubes.
Picking the perfect postal tube just comes down to what you need it for. So what sorts of tubes are available and how can you use them?
What shapes of cardboard postal tubes can you get?
You can get cardboard postal tubes in a handful of shapes, depending on what you need them for.
Standard cardboard packaging tubes are cylindrical and come in a variety of diameters and lengths – starting with tubes 330 mm long, suitable for A3 sized documents and go up to 1067 mm long into which B0 documents will fit. They also come in diameters of more than 100mm if needed for much bigger items, as we shall come to shortly.
These heavy-duty cardboard tubes are made from 65gsm spiral wound board and come the distinctive white plastic end caps. These caps are fitted as standard, but it is worth noting that they reduce the length of the postal tube by 15 mm at each end – so factor that in when looking at how big a tube you need. The end caps fit snugly into the postal tube but can be taped to add extra security.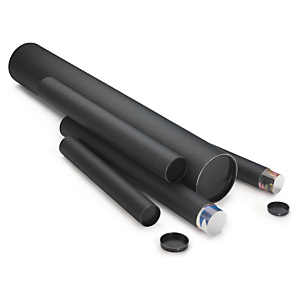 To create an impression with your package, cardboard postal tubes also come in matt-black, adding to their allure as a gift packing option – ideal for standing out if you need to send rolled or folded items for your ecommerce business.
To add an extra degree of crush-resistance and to allow for more stable stacking, triangular postal tubes are a good choice. Self-assembled from flat-pack forms, these distinctively shaped 'tubes' fold together to create a triple thickness board at each end to protect the items inside.
Their unique triangular cross-section also means that they can be neatly stacked with no risk of rolling – ideal for both shipping in bulk and for storing items.
Their flat faces also make them ideal for sticking postal labels too for mailing.
What sizes of cardboard mailing tubes can you get?
You can get a wide range of sixes of cardboard mailing tubes to suit the packaging and storage or a wide variety of items – not just flat things like maps and posters, but all the way up to large items such as machinery components and more.
Large parcel tubes and extra-large parcel tubes are also available, offering internal diameters of up to 154.2mm and lengths as long as 940mm. Such tubes are ideal for rollable and foldable items such as large posters and maps, or similar printed on stiff paper, but can also be used to ship long, thin objects and components such as anything tubular such as a lamp stand, or items such as ornaments or garden canes.
For really large and important documents that need to be stored securely, such as industrial plans or blueprints, extra-large triangular postal tubes are also available, up to 1100mmm long. These two are also really useful for long, narrow industrial parts and components.
 When to use plastic postal tubes
Plastic postal tubes should be used when there is a need for extra protection, from moisture, oil and dirt. Constructed from clear polypropylene, these parcel tubes offer great strength along with the ability to see what is inside them – ideal for unboxing delight when used in ecommerce.
Their construction, unlike cardboard shipping tubes, also offer oil, grease and moisture protection, thanks to the inert nature of the polypropylene plastic from  which they are made.
These plastic tubes also feature novel screw in end caps that provide a perfect seal and an added level of security for the documents or goods stored inside.
Altogether, these features make plastic packaging tubes ideal for storage of items that may degrade – such as paper and fabric – in an industrial or semi-industrial setting. They are also great for sending items that have a wow-factor, as the clear tube means that the product is on display for the recipient before they open the tube.
What items need heavy duty postal tubes?
There will be items that need heavy duty postal tubes, those tubes that are more than 100mm in diameter and, perhaps more presciently, those that have a strong card construction.
Sending or storing rare documents or maps, it is always best to opt for a heavy-duty postal tube to make sure that the items get the best protection from impact, as well as from environmental factors such as dirt, moisture and heat and cold.
Heavy items such as some electrical or mechanical components that fit in a tube need heavy duty cardboard cylinder packaging to protect them and to support their weight.
But the real rule of thumb here is to always opt for a sturdy tube – cylindrical or triangular, card or plastic – as it always pays to err on the side of total protection for the valuables you are looking to transport, ship or store.
Want to know more about our wide range of postal tubes?
For additional advice on the best postal tubes, our Packaging Experts are here to help you find the right solutions and arrange next day delivery. Simply call us on 0800 542 44 28 or visit www.rajapack.co.uk.