You should switch to eco-tape because with sustainability top of the business agenda, it is the sensible thing to do. Eco-tape offers all the benefits of any other kind of packaging tape, but it can be recycled – often while still attached to the box.
But that isn't all: eco-tape offers a range of other advantages. Here we take a look at why you should switch, what it is made from and where it can be used.
Eco-tape: Why you should make the switch
You should make the switch to eco-tape because there really is no reason not to. With growing attention on sustainable business, using biodegradable paper tape, brown paper tape and other eco-tapes to secure packages is now a simple yet highly effective way to do your bit for the environment.
It may sound trite, but with such a wide array of eco-friendly packaging tape available at no real extra cost, why wouldn't you?
These eco-responsible self-adhesive and gummed paper tapes offer an excellent alternative to polypropylene and vinyl tapes and give the same degree of closure, sealing and protection – as well as being both recyclable and recycled. Even the glue is environmentally friendly.
Another reason to switch to paper tape is that these strong yet easy to tear tapes stick to all types of cartons and boxes and, being made from renewable sources with a natural rubber adhesive they can be recycled along with the box they are stuck to, with no need to spend time – and money – separating them.
They can also be written on – being available in white or buff and in handy mini packs – so they can also double as an environmentally-friendly way to not only seal but also to label packages and boxes. This once again cuts down not only on waste, but on raw materials used as you don't need tape and a label.
What is paper tape used for?
So, what is paper tape used for? Paper tape is used for a wide variety of packaging activities, mainly to seal and hold closed packaging boxes – but it doesn't stop there.
With more ecommerce happening than ever before, the need for strong, secure paper packaging tape has never been so high.
Making that paper parcel tape eco-friendly is also a top priority. Not only will it make your business more sustainable, but it is what consumers and customers alike are increasingly demanding.
The uses of eco-paper packing tape are myriad. The most obvious is to seal boxes closed to prevent their content spilling out and getting damaged. These seals are tough and secure, as well as being tamper-evident. There is no way to open the tape without damaging it and revealing that the box or package has been opened.
This is ideal for transport and ecommerce delivery applications where the recipient wants to know that the package hasn't been opened in transit.
Conversely, the tape is also quite easy to open as it can be torn or cut, making it easy to access the contents when appropriate. It is also easy to reapply new tape over any old tape to reseal a box should that be necessary.
Reinforced tape offers the same flexibility as paper tape, but can handle much heavier loads and so can be used for sealing packages containing heavy items up to 75kg in weight that are being transported or shipped.
The strong yet flexible nature of eco-friendly paper packaging tape is matched by its high heat and humidity resistance, making it ideal for export operations. It also cuts down on the environmental burden in the receiving country, which may or may not have different regulations regarding packaging materials and the proportion of recyclable packaging that can be imported.
If that wasn't reason enough to use paper tape, as already mentioned, the tape can also be written on so that it acts not only as a great way to seal boxes closed, but also to label them too. It even comes pre-printed with warnings such as 'fragile' so that not only can it seal up a package securely, but it can also outline how that package is to be handled.
Meanwhile, eco masking tape can also be used to mark out and cover areas that need to be painted, as part of a routine maintenance plan or even as a bit of home, office or warehouse improvement. For example, it is an ideal way to mask off areas for painting the now requisite social distancing and other COVID-safe markings that are needed in many workplaces.
Masking tape too can be used to make ad hoc labels, as it can be easily torn off and written on.
What is eco-friendly tape made from?
Eco-friendly tape is made from three basic things: kraft paper, glass fibre and other reinforcements and natural rubber-based gum. Some eco-paper packaging tape is made from all three of these components, while others – for lighter duties – are made from paper and gum.
The basic paper packaging tape is made from a variety of grades and widths of kraft paper from around 57gsm up to more than 120gsm, depending on how rugged it needs to be.
Depending on how the tape is going to be used, there are two different ways that it can be fixed to the packages it is being used on: self-adhesive tape and water-activated gummed tape.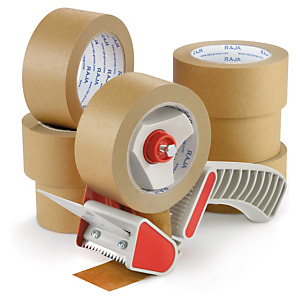 Self-adhesive eco-brown tape comes 'pre-stickied', with the paper tape roll coated in eco-friendly self-adhesive gum, so that you can just unroll the tape you need and it sticks. This can be done by hand or using a special hand-held tape dispenser that applies and then helps cut the tape in one elegant motion.
The other kinds of eco-parcel tape are very similar, only the adhesive is water-activated. These gummed paper tapes are 'dry' on the roll and need to be wetted on the adhesive side to make them sticky. This can be done with a special tape dispenser that moistens as it applies the tape.
Once dry, the adhesive is very strong, as well as temperature and humidity resistant making it ideal for export operations.
The third kind of tape is reinforced paper tape, which is used for heavier and more bulky items. It is made from a combination of high grade kraft paper, but is reinforced with glass fibre filaments.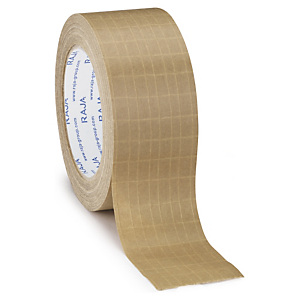 These tapes are very strong and come in two kinds: filamented and cross-woven. Filamented tape has squares of glass-fibre woven into them (see above), allowing the tape to be strong but also to be easily torn and cut to length.
Cross woven (see below) offers a strong, more tear resistant kind of strapping, for those really heavy items that need extra strength protection in transit.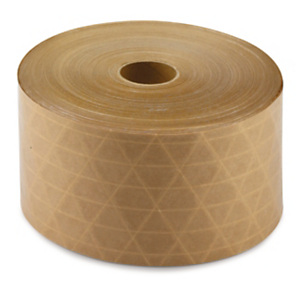 These reinforced tapes come in both self-adhesive and water-activated formats, with cross woven tape recommended to be used with a water-applicator that can also cut it as it is so tough.
Want to know more about our wide range of eco-tape?
For additional advice on the best eco tape or have packaging recycling questions, our Experts are here to help you find the right solutions and arrange next day delivery. Simply call us on 0800 542 44 28 or visit www.rajapack.co.uk.