Being environmentally conscious is not only something we need to do for all humanity, but is also becoming an important business differentiator when customers are choosing who to buy from. And packaging is where they first get a feel for your environmental credentials. So what sustainable and eco-responsible packaging options are there?
In fact, pretty much all packaging materials and solutions have an eco-responsible alternative option. From packaging materials, storage solutions and even heavy duty storage boxes, all available made from recycled materials to packaging that can be recycled – often into new packaging – and packaging that can be used and composted or biodegraded.
Read on to learn what is available – you may be surprised.
What is eco-responsible packaging?

Eco-responsible packaging are eco-friendly packaging materials that have little or no environmental impact. Made from recycled, recyclable or sustainable materials in processes that too have little or no impact on the environment.
These packaging materials are made to be neutral in terms of what they do to the environment. Being made from recycling other materials or by being easily reused or by being readily composted or biodegrading once finished with.
Eco-responsible packaging is safe and sustainable for both its users and the environment and are ideal for helping brands and businesses meet their corporate social responsibility targets. As well as helping us all do our bit to protect our world.
Such packaging comes in many forms, from eco-responsible wrapping paper to eco-responsible fill to even eco-responsible bubble wrap made from recycled plastics. Offering the same high level of protection as 'ordinary' packaging materials, eco-responsible and sustainable packaging offer the advantages of high quality packaging to suit whatever your transport or storage needs are, but minimising the harm to the environment.
What is sustainable packaging?
Sustainable packaging, on the other hand, is packaging that comes from a sustainable source such as paper packaging and wrapping.  This is packaging made from sources that replenished the trees used to make the paper in the first place.
These sustainable packaging materials may also be reused multiple times, adding to their eco-friendliness. As well as being cyclable – often being made into other eco-responsible packing materials, such as recycled and recyclable mailing bags.
Bringing together the ideas of both sustainability and biodegradability, there are packaging materials such as Eco Flo that offer the best of both worlds. Looking like polystyrene chips, this lightweight and highly versatile packaging option is made from 100% renewable sources, is odourless and offers anti-static properties up to five times better than polystyrene – making it ideal in packaging of delicate electronics.
Like all protective chips, Eco Flo stops items falling to the bottom of the box and offers excellent protection.
Is biodegradable packaging still strong?
Biodegradable packaging is still strong. One of the key worries with switching to eco-responsible and biodegradable packaging is whether it is as strong and effective as 'non-green' traditional alternatives. In almost all cases, eco-responsible and biodegradable packaging are just as strong as any others.
Depending on the packaging product and type in question, eco-responsible and sustainable packaging can essentially be made from the same materials as their virgin equivalents. With those made of recycled materials – especially plastics – simply being the same plastic melted down and/or reused. Sustainable packaging can also be made from exactly the same materials and in somewhat the same way as virgin packaging. If you take paper; the original supply (often trees) is replanted and over a year, shows no net loss of raw materials. Also before and during the manufacturing process, the creation of the product itself has considered the negative effects towards the environment, so that it is sustainably produced.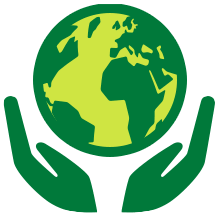 Biodegradable packaging is slightly different, however, in that it is often a new material made to biodegrade when placed into landfill, without giving off any harmful by-products or gases. Paper products are naturally biodegradable, being made from organic materials from trees. Biodegradable options to plastic are a different matter.
To biodegrade, these too have to be made not from polythene, but from organic materials such as cellulose – also derived from trees and plants – and can also include corn oil, orange peels, starch, and plants. Traditional plastic is made with chemical fillers that can be harmful to the environment when released once the plastic is melted down. With biodegradable plastic, you get a substance made from natural sources that does not contain these chemical fillers, and does not pose the same risk to the environment.
Corn-starch, which is the basis of most compostable plastics, is in fact very strong, forming long polymer chains. So while they may feel different to 'normal' plastic they are in fact just as strong.
Types of recyclable plastic packaging

Of course, not all plastic packaging has to be biodegradable, but it is environmentally conscious to use recyclable plastic packaging alternatives. There are many packaging items made from recycled and recyclable plastic.
While using packaging that is recyclable is great, you can also use plastic packaging that is made from cycled materials – often without the consumer noticing any difference.
---
How to recycle packaging materials

---
Alternatives to bubble wrap
Of course, there are alternatives to bubble wrap – such as recycled bubble wrap which is one of the eco-friendly options. There are many benefits to the popular bubble wrap (not even mentioning economical),is ideal for adding extra protection from bumps and thumps in transit, as well as from moisture, dust and dirt. However there are a number of other environmentally responsible packaging solutions available.
One  alternative to bubble wrap is corrugated cardboard rolls, which can be used instead of sheets of bubble wrap. Like bubble, corrugated cardboard can securely protect items in transit or storage. Made from C-shaped shock absorbent corrugated recycled cardboard, the waves allow flexibility, creates padding and is lightweight. This packaging product is an ideal eco-friendly packaging option.
A great alternative to bubble wrap pouches or envelopes are Jiffy Green bags stuffed with cushioning paper fibres, or corrugated Flutelope mailers with absorbing waves, both are ideal for goods that you may usually put in a bubble wrap baggie.
Want to know more about our wide range of eco-responsible packaging materials?
For additional advice on the best eco-responsible packaging materials or to learn about RAJA packaging and the environment you can contact our Packaging Experts. Simply call us on 0800 542 44 28 or visit www.rajapack.co.uk.